El Instituto del Fracaso es una empresa social que ayuda a las personas a liberarse de los paradigmas que limitan su vida.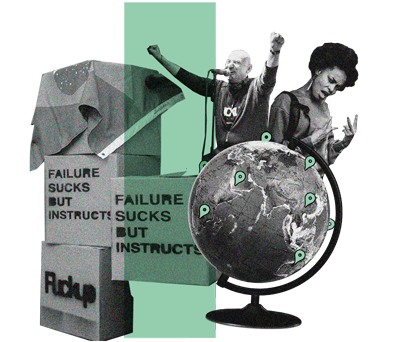 Diseñamos experiencias personalizadas para que organizaciones impulsen un cambio cultural. Buscamos que las empresas aprenden del fracaso, desarrollen líderes vulnerables y construyan espacios seguros con personas auténticas, mejoren la productividad y la innovación en sus equipos.
Using personal stories rooted in authenticity and vulnerability, we create live experiences (webinars, workshops, keynotes) and content (interviews, failure stories, reports) for people and companies around the world, helping people be their truest selves both at work and at home.
"Fuckup helped us to break free from prejudices about failure and accelerate the learning it brings. The events have been a great impact to our teams and leaders, and allowed us to set the right tone to important conversations inside the company"
Having The Difficult Conversations